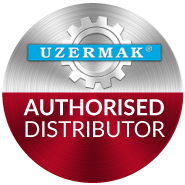 The UZERMAK UHT System was designed to increase shelf life of processed cheese. The product heated at 138-142°C for 6 to 8 seconds holding time is cooled down to 85-90°C. In this way, all kinds of microorganisms and bacterial spores that may damage the product are destroyed. After this process, the product becomes long-lasting and keeps its freshness for at least 6 months at non-refrigerated conditions. Capacity can be determined according to customer's need.
Microcut-Mechanical Homogenizer (Inline Model)
The Uzermak mechanical homogenizers (microcut) are for fine cutting and emulsifying. It is multipurpose machine and applicable for many different products. You can obtain the desired size of particles depend on interval of blades while circulating in line for a certain period of time.
Applications
Vegetable and fruit grinding, hummus, rework, confectionary, fish products, nuts and almonds grinding, emulsions, sauces.
Main Features
Designed for Cutting, dispersing, emulsifying and homogenizing
Frequency inverter control
Axial face seal
---
Download Technical Doc