See all new Simon Frères machines Simon Frères Overview
SIMON Frères is an expert in Butter Process technology (cream treatment, churning, continuous blending, reworking, bulk packaging, distribution and melting) with solutions that are reliable, innovative and competitive.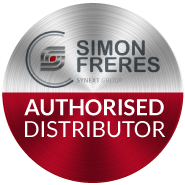 Located in Cherbourg, in Normandy, France, SIMON FRERES was founded in 1856 and is the leading manufacturer of modern high-performance machines for dairy and butter industries. SIMON Freres is well known for:
A leading position in the field of butter equipment.
Expertise in continuous processes.
Partnering with customers with their industrial development.
Designing machines adapted to individual requirements.
A long tradition of exporting to over 50 countries.
Our professionalism and commitment to quality.
Since the manufacture of the first industrial continuous butter churn in 1955, SIMON Frères have devoted their efforts to further developing their machines and now offer the broadest range of equipment for making, reworking and packaging butter. Today their know-how is also applied to by-products such as low-fat products and special dairy spreads.