World leaders in ice cream machines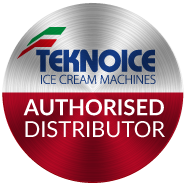 Teknoice is a leading Ice Cream Machines manufacturer, offering a complete range of equipment, from stand-alone machines to complete layouts.
The company was started in 1992 and has grown into an international company selling worldwide. Teknoice has over 1200 clients in almost 100 countries worldwide, with 5 offices.
Teknoice presents a range of freezers with innovative design which are the result of a notable experience, acquired during years in ice-cream field, and energies spent in search of latest generation systems of control, with the aid of the top quality instruments brands which are now available on the market. The result is a range of freezers, with built-in refrigeration, which ensure high performances, precision of control and easy to clean and maintain, for production capacities from 400 to 2,000 lt/hr.