World leaders in ice cream machines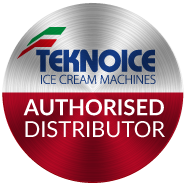 Teknoice is a leading Ice Cream Machines manufacturer, offering a complete range of equipment, from stand-alone machines to complete layouts.
The company was started in 1992 and has grown into an international company selling worldwide. Teknoice has over 1200 clients in almost 100 countries worldwide, with 5 offices.
We are now the appointed UK Agency for Teknoice Ice Cream Machinery and look forward to offering the complete range of new ice cream machines including the superb new 'Deep Ice' machine which offers a superior ice cream product by operating at -10 degrees to produce less ice crystals giving a smoother, more palatable texture.
See the complete range of Teknofreeze ice cream machines here