From an ice cream factory weighing up closing for three weeks over Christmas to a bistro now only open for bookings
David Equi can't seem to catch a break. He opened a gleaming new factory in Glasgow for his eponymous luxury ice cream business on the eve of the coronavirus pandemic and has now missed out on the cutoff for government energy support by a single day.
Faced with a sharp rise in energy costs, he plans to shut down his blast freezer – a container that rapidly cools 40 pallets of ice cream – this winter. "We're turning that off and using our existing freezers just to save money, and will switch it back on in the summer. We're just looking at the tiniest wee things where we can save."
Equi is also considering closing the factory entirely for up to three weeks over Christmas to save on bills, rather than operating on a skeleton staff as usual at the business, which supplies customers from Aldi to the Gleneagles hotel.
Many businesses will have invested in long-term sustainability measures to become more energy efficient but now, faced with rising prices, firms of all sizes across the country are examining every available measure to cut their bills.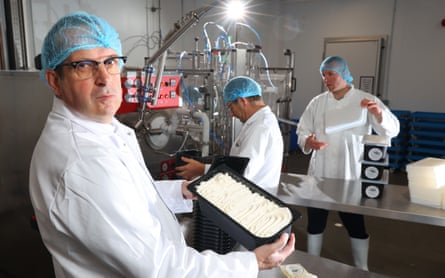 The electrical retailer Currys plans to turn down the brightness of its TVs; Vivendi, the owner of the Havas advertising agency, is turning down the temperature in its offices by 1C; and 300,000 LED lights will illuminate Oxford Street this Christmas – cheaper and more efficient than standard lightbulbs.
The incentive is clear: the restaurant and pub group Mitchells & Butlers said at the end of last month that its energy bill had almost doubled to £150m on pre-pandemic costs. Alston Wholefoods, a village shop in Cumbria, has switched off its freezer and is instead using laminated pictures of products for customers to order, saving an estimated £3,000 on its annual bill.
Some small businesses fear they will be asked by the government to shut down this winter to conserve energy supplies. Others say the sudden increase in costs has left them fighting for survival.