The dessert of love we all love
Saying that the USA is besotted with ice cream is an understatement considering that the average person consumes in the region of 44 pints of ice cream in a single year. While it's common knowledge that ice cream makes you feel better, not everyone knows that it is also a rather potent aphrodisiac.
While eating a regular bowl of ice cream is undoubtedly a sensual experience that will put you in a good mood, nothing can compare indulging in a scoop or two of delectable gelato ice cream made with only the best ingredients you can find. If you want to turn ice cream into the most romantic dessert, you can even add a number of other in-the-mood-foods to your ice cream to boost its aphrodisiacal properties even more.

Carnal Chocolate
Chocolate is an aphrodisiac of ancient repute. Which is precisely why it is so popular on Valentine's Day. Chocolate contains phenylethylamine. This stimulates dopamine production in the pleasure centers of the brain. It also contains a nice amount of anandamide which triggers a sense of well-being and exhilaration.
Chocolate inspiration for your next date night dessert
There are countless ways in which you can turn a serving of rich, dark, chocolate ice cream into a desirable summer dessert. A scoop of ice cream on a decadent chocolate brownie can become a romantic dessert, especially if you and your partner take turns feeding it to each other!
You can even just have your ice cream on its own. Especially if you experiment with mouth-watering flavor combinations such as orange and dark chocolate, double choc chip, chocolate and walnut, and chocolate caramel.
Gelato ice cream with the season's sexiest fruit
Apart from looking downright luscious when eaten, figs are also known to contain strong libido-boosting properties. Want to end your evening on a high-note? Why not serve up a bowl or two of fabulous fig ice cream to get you and your partner in the mood. Serve your sultry ice cream in a sleek bowl, drizzle with honey. Then decorate the bowls with fresh fig slices for an unapologetic, erotic touch.

Why bananas are for lovers
Some people have the ability to eat a banana in such a way that you end up feeling dirty just watching them do it. Bananas contain a lesser-known group of enzymes called bromelain. And Bromelain is believed to increase a man's sex drive. Women can benefit from eating bananas too since these super fruits are rich in potassium and Vitamin B2. And don't forget the riboflavin that can give you a nifty energy boost between the sheets.
A sundae for your sweetie
A simple banana ice cream is sure to get the blood flowing to all the right places. Although you can step up your game a notch and put a modern, sexy spin on a traditional split by using banana ice cream, grilled banana halves and a generous drizzle of banana-rum sauce. Top it off with a few chunks of caramel fudge and a few red cherries and you have a summer dessert fit for a king.
Ice cream flavours you could be serving this Valentine's Day
Ice cream is a classic treat year-round. Every season brings new ways to enjoy it. Whether it's Christmas or Mother's Day, it's always a good way to satisfy your sweet tooth.
Ice Cream is Perfect for Valentine's Day Because it's a dessert-fueled holiday, ice cream is the perfect treat to gear towards customers in the Valentine's Day Spirit. You can dress it up in a fancy sundae or shake, or let the flavours speak for themselves. Here's a list of a few more flavours that are a must-serve this year:
Rose Petal
Nothing beats a dozen roses on Valentine's Day – except maybe rose petal ice cream. This less-common flavour is perfect for you and your sweetheart. It's sophisticated, light, and unexpected. A good way to make this is to blend together sugar and rose petals, simmer this with heavy cream, until the sugar is dissolved, and mix it into vanilla or sweet cream ice cream.
Salted Caramel
Salted caramel ice cream is popular for a reason: it's perfect for anyone who wants something sweet, but not too sweet. The saltiness cuts through the flavour of the caramel. This makes it a unique option for anyone without a huge sweet-tooth.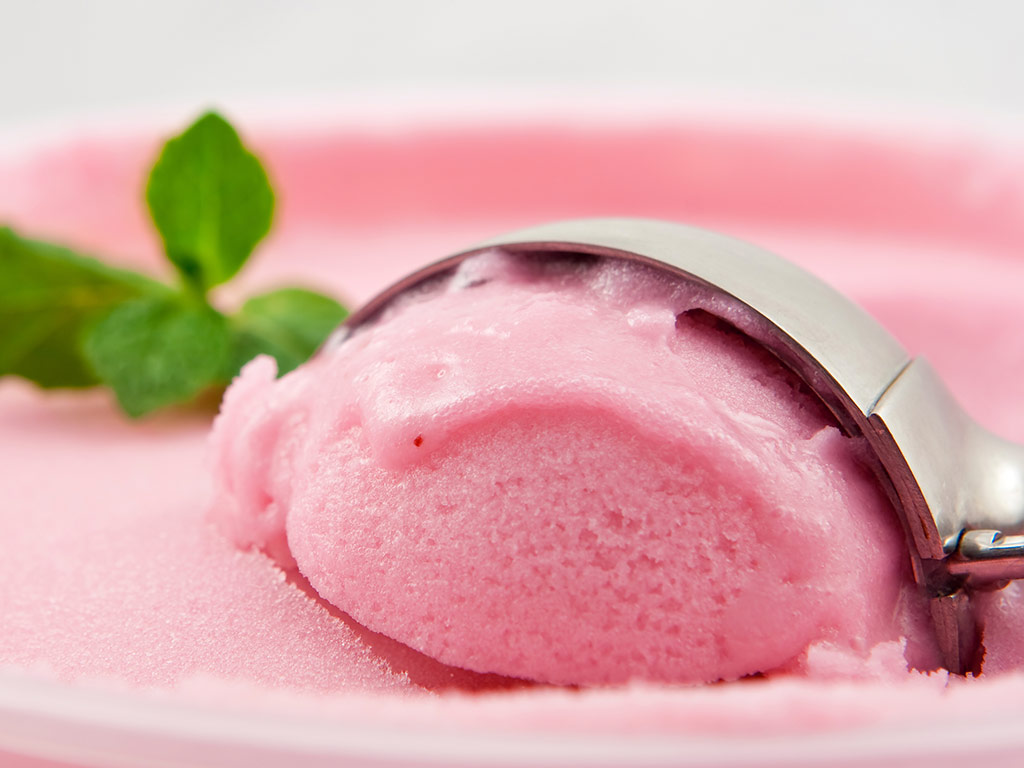 Raspberry Sorbet
This is a different take on regular ice cream and it's safe for vegans! Because raspberries have a tart taste, they're perfect for sorbet. They don't weigh down the flavour, making this a great option for people who don't love traditionally sweet things.

Chocolate Chip Cookie Dough
This classic ice cream flavour is a good choice for Valentine's Day. It's not too decadent or rich, while still being sweet and chocolatey. This option also works well for sundae bars because it's simple enough to complement other toppings but it isn't boring on its own.

9. Cherry Vanilla
This pretty pink ice cream will add some fun to your holiday. The cherries add a wash of colour to an otherwise plain treat. It's sweet and light, perfect for a Valentine's party or a night in with your significant other.
Classic Chocolate
There's nothing more romantic than classic chocolate ice cream. It's a major crowd-pleaser that's simple enough to work well with other toppings or even a cone.
Whether they're eating it at a party or on a date, in a cup or a cone, ice cream is always a good choice. Valentine's Day is the perfect time to enjoy it. These flavours will be a fun addition to your Valentine's Day menu.